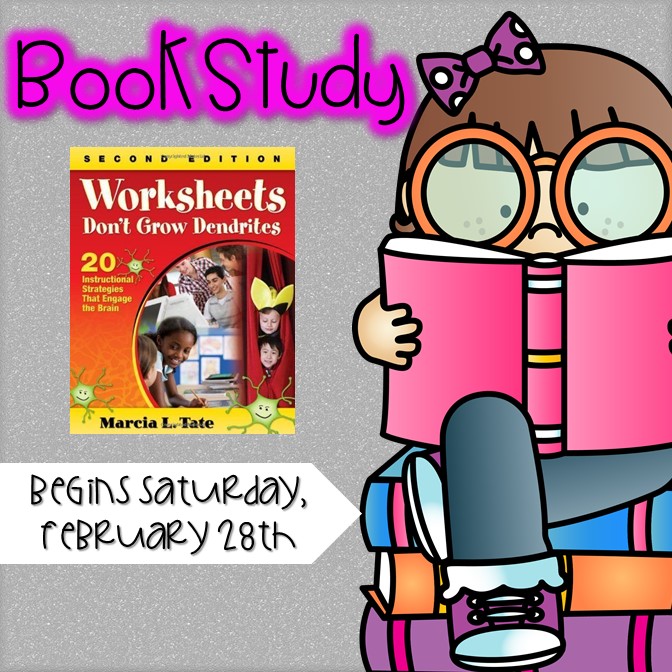 I am going to be honest, I was excited to read this chapter in Marcia Tate's book Worksheets Don't Grow Dendrites, because I knew before even opening to the first page, that this is an area I need to improve upon! I have been content in the last few years to take one field trip off school grounds a year because "it's what has always been done." I needed to read this chapter to SNAP ME OUT OF IT!
Tate begins this chapter with such a powerful statement,
"The purpose of the brain is not to make good grades or to score high on standardized tests. The bran has but one purpose-
survival in the real world."
The places that I have traveled, both in and out of school, provided some of the most memorable experiences of my life. Studying abroad during college, going away to different countries with my family, and exploring DC and Boston during my time in middle school always provided me with learning experiences outside of the classroom. I need to remember that field trips have the same affect on my students as it did me.
Here I am with my brother and sister on a trip to the Trevi Fountain in Rome a few years ago. An incredibly memorable trip and one outside of the classroom! I need to keep this in mind with my own students, especially those who do not have the ability to travel outside of school.
I have always loved to take my students outside on a beautiful day to read, listen to a story, or explore the area around us. We take nature walks to look for signs of Spring and Fall and collect leaves to study inside the classroom.
My school just installed this beautiful outdoor classroom that I can't wait to utilize once the weather gets nicer! Marcia Tate states that convening class outside, "allows students to experience the positive effects of sunlight and the beauty of nature calms students' brains and puts the mind in a good state for learning." I always feel calmer and more relaxed while I'm outside reading or working, I know I need to connect that feeling I have myself to those of my students!
When I taught second grade, the entire team was involved in hatching chicks in our classrooms. We weren't able to go to the farm to watch it in action, but we were able to take a virtual field trip to explore what happens on a farm and the day to day life. The students were fascinated! You can find more information on this virtual field trip here.
Unfortunately, that's where using this strategy well ends for me. I am taking my students this year to see a play of Junie B. Jones which I know they will love. However, I am not utilizing my community to tie into curricular objectives like I could be. I love the idea of students using the community to create math problems based on what they discover from their walk or going outside to engage my students in movement and games to reinforce some of our objectives. I need to remind myself that the playground is not just for recess!
Something that Marcia Tate doesn't touch on but I feel can apply to this strategy is the idea of transforming your classroom to look and feel like somewhere you can go to help facilitate learning. I have been inspired by so many educators to transform their classrooms to engage students in learning. I know Kim Beardon discusses this a lot in her book, Crash Course: The Life Lessons My Students Taught Me and I have seen this being done in Elizabeth Hall over at Kickin' It In Kindergarten's classroom. She transformed her room into a hospital for vowel surgery and a police office for punctuation police. Even though it may not be a literal field trip, I feel like it transports students to a new place and one that creates a memorable learning experience!
I tried this with my contraction surgery a few months ago. A memorable moment of learning for sure! Thanks to all the amazing teachers out there for the inspiration!
My biggest takeaway from this chapter is similar to that of chapter 1&2. Keep the students at the forefront of your mind while designing instructional activities. I want to make sure I'm utilizing the things around me to engage them in all different ways, whether that's taking the class outside for a lesson, sending them out into the community for an assignment, or transforming my classroom to tie into our learning.
I can't wait to read what everyone else is gaining from this book study! Thanks for stopping by! Make sure to hop back to Mrs. Wills' Kindergarten for more blogs to visit!